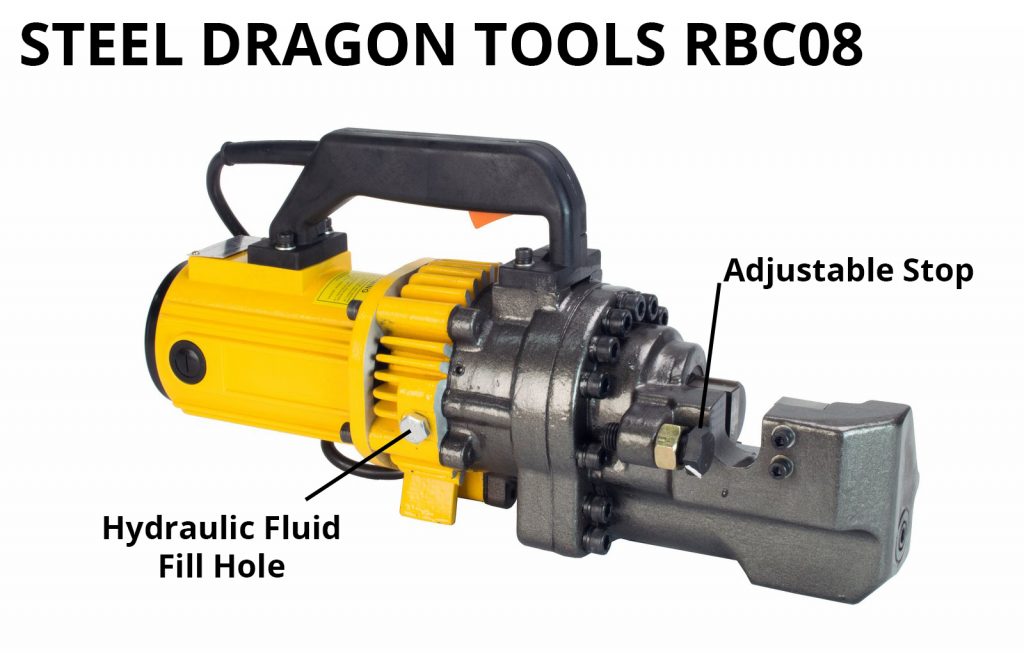 Steel Dragon Tools rebar cutters can be kept in peak operating shape for years to come by following these simple tips. For more information on Steel Dragon Tools rebar cutters, click here.
Use the Right Tool
Steel Dragon Tools rebar cutters can cut other materials, but it is important to remember to use the proper tool for the job. The failure rate for these machines will go up when using it for a purpose other than cutting rebar.
Hydraulic Fluid
Hydraulic rebar cutters, even the manual kind, will make quick work of cutting thanks to the assist from the hydraulic pump. Be sure to use a standard, agriculture-grade hydraulic fluid to fill or re-fill the pump. Hydraulic fluid is the power behind these cutters. If the cutter pump is low on fluid, it will not cut. Low fluid levels will degrade pump efficiency of the electric rebar cutters. The clearest indication of low fluid is when the piston starts but stops abruptly.
Check and Fill
The fill hole for Steel Dragon Tools electric rebar cutter is on the side of the machine. To fill or add hydraulic fluid, lay the cutter on its side and remove the hex bolt. Fill the cutter until the hydraulic fluid is visible in the hole. Insert hex bolt and tighten.
It is normal for some hydraulic fluid seepage from the electric cutters. These cutters come with hydraulic fluid but will need to be filled again from time to time. When the hydraulic fluid is low, both cutting speed and power will be reduced.
For more information on Steel Dragon Tools call 734-224-7112 or e-mail customer service here.
Steel Dragon Tools products are available for purchase from Affordable Tool and Toolz Unlimited. Steel Dragon Tools products can also be purchased at major online retailers like Amazon, eBay, and Walmart.