The 87740 motor is the driving force behind some of the most popular pipe threaders in the industry, including the RIDGID® 300 and 535. The Steel Dragon Tools version of the 87740 motor powers the Steel Dragon Tools 300 and 7090i. The 87740 motor is a versatile work horse and can be used across a variety of platforms thanks to interchangeable gearboxes. This motor is reliable, durable, and easy to service should the need ever arise.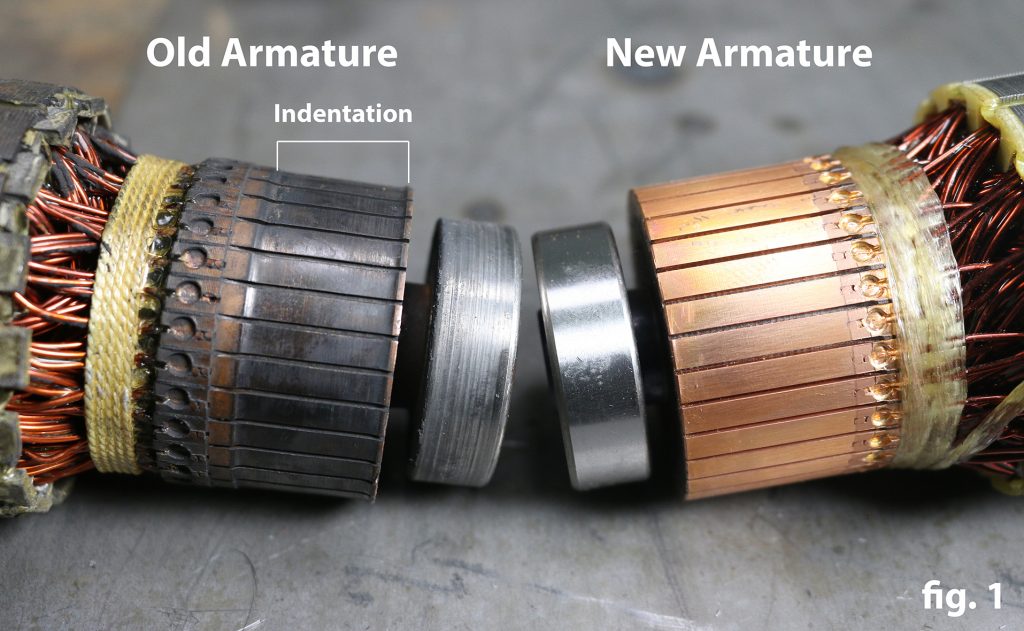 The 87740 motor has three main components; the field, the armature, and brushes.
The brushes are the item most likely to wear out first. The brushes are designed to make constant contact with the commutator of the armature. While the brushes are considered a wear item to be replaced on occasion, it is also important to inspect the armature and especially the commutator. After many years of use, the commutator can be worn away due to the constant contact with the motor brushes. This wear will result in a slight indentation in the commutator (fig. 1). New brushes will not be able to make solid, constant contact with the commutator, resulting in sparking, higher current draw, and loss of power. If the commutator shows this type of wear, it is easier and more cost effective to replace the entire armature.
The motor field is not a wear piece and will rarely need to be replaced unless it is damaged. Damage is most likely to occur during operation or maintenance. The field can be damaged by an electrical surge or if an internal wire is pinched.
Steel Dragon Tools offers replacement parts that will fit any 87740 model. Steel Dragon Tools is also a full-service repair shop specializing in reconditioning pipe threading machines. Steel Dragon Tools technicians have decades of experience and can quickly diagnose and repair most 87740 motors.
For more information on Steel Dragon Tools call 734-224-7112 or e-mail customer service here.
Steel Dragon Tools products are available for purchase from Affordable Tool and Toolz Unlimited. Steel Dragon Tools products can also be purchased at major online retailers like Amazon, Sears, and Walmart.
We are not an authorized distributor of RIDGID® and/or Ridge products. RIDGID® Marks are trademarks of RIDGID, Inc and are used for product identification purposes only.
Tools repaired and reconditioned by Steel Dragon Tools voids original warranties and certifications from Ridge Tool.
Steel Dragon Tools is always looking for used or broken pipe threading machines and pipe threading accessories. Click here for the purchase list and prices.