815A Die Head
SKU:

SDT-815A

UPC:

817482024567
Dimensions:

5" x 14" x 11"

Weight:

13 lbs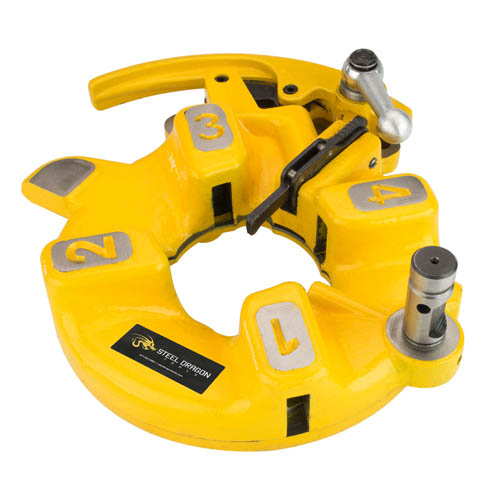 The 815A Universal Self-Opening Die Head will automatically open after completion of threading. This oiling die head will thread 1/8-inch to 2-inch pipe and 1/4-inch to 2-inch bolts. The 815A Die Head is for use with RIDGID® Universal Right-Hand Dies and Steel Dragon Tools Universal Right-Hand Dies. This die head will fit compatible RIDGID® and Steel Dragon Tools pipe threading machines.
Specifications:
Die head opens automatically after completion of threading for repeatable and more precise threads.
Easy to install and use with your machine of choice.
For use with RIDGID® Universal Right-Hand Dies.
For use with Steel Dragon Tools Universal Right-Hand Dies.
Pipe Capacity: 1/8 in. to 2 in.
Bolt Capacity: 1/4 in. to 2 in.
Fits RIDGID® Models 300, 300A, 500, 500A, 535, 535A, 800, 801, 802, 1822.
Replaces Part Number: 97075
Fits Steel Dragon Tools Model 300.
Manufactured with heavy-duty, thick, and durable parts to last years of pipe threading.
One (1) year warranty against manufacturer defects.
Dies are not included.
WARNING! This product can expose you to chemicals including lead, carbon_black_extracts, chromium_hexavalent_compounds and sulfur_dioxidee, which are known to the state of California to cause cancer and birth defects or other reproductive harm. For more information, go to www.P65Warnings.ca.gov. Wash hands after handling.
Steel Dragon Tools® offers a wide variety of professional-grade tools and high-quality replacement parts. Backed by years of manufacturing excellence and coupled with the latest technology, Steel Dragon Tools products provide incredible craftsmanship at an unbeatable value.
We are not an authorized distributor of RIDGID® and/or Ridge products. RIDGID® Marks are trademarks of RIDGID, Inc and are used for product identification purposes only.