WRA10 Drill Powered Wire Stripping Machine
SKU:

SDT-WRA10

UPC:

817482027056
Dimensions:

7" x 6" x 6"

Weight:

2.13 lbs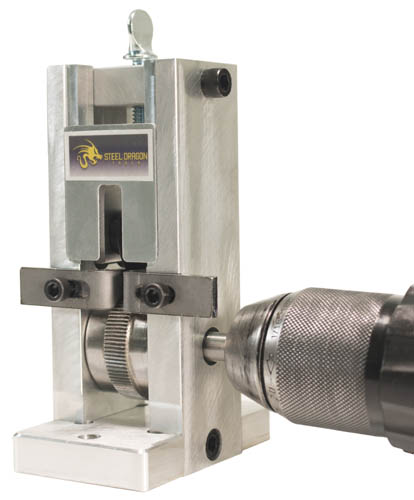 Steel Dragon Tools®  WRA10 Hand Held Wire Stripping Machine.
Mounts easily to any bench or work station.
High-quality light weight construction made of durable aluminum.
Used for removing the plastic and rubber insulation from undamaged scrap wire.
Easily connects to drill for automatic or manual wire stripping.
Strips 450 inches per minute.
Wire gauge range: 10 -4/0 AWG or  (2.5-11.5 mm) or (.100 – .460)"
Metric HEX wrench is required for proper adjustments.
This machine will not strip coaxial cable.
Does not strip THHN wire.
Operating Instructions
Using the adjustment knob on the right and left sides, adjust the guides to the wire thickness. Space between each guide rail and the blade must be equal. Wire must be able to slide in and out easily with minimum clearance.
Slide the wire through the guide rails until the wire is just underneath the cutting blade.
Using the cutter-adjustment knob on the top of the machine, turn the knob while the other hand is moving the wire back and forth along the guide rails until the cutter grabs the wire.
Let go of the wire (DO NOT HOLD ONTO THE WIRE). Turn the drill on, the blade will rotate, grip the wire and pull it through the machine.
Once the wire is pulled through the machine, turn off the drill and remove the insulation from the wire.
Steel Dragon Tools® offers a wide variety of professional-grade tools and high-quality replacement parts. Backed by years of manufacturing excellence and coupled with the latest technology, Steel Dragon Tools products provide incredible craftsmanship at an unbeatable value.