When threading pipe with a Steel Dragon Tools die head, or any die head for that matter, it is important to remember that the scale on the top of the die head i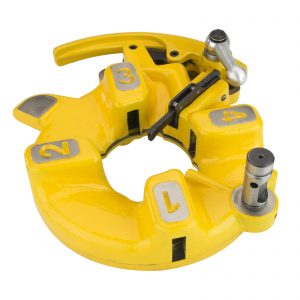 s for reference only. The scale is used to get as close as possible to the correct threading size but it is up to the operator to test the die head, dies, and pipe.
Start by setting the die head to the desired threading capacity. Thread a sample piece of pipe and test the pipe with a c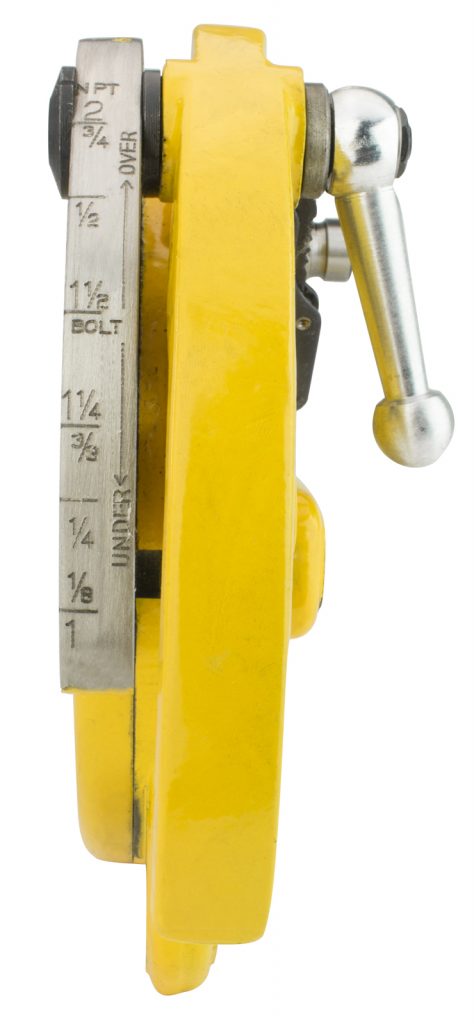 orresponding fitting. A properly threaded piece of pipe will make one and a half to two full turns within the fitting before meeting resistance. A pipe that does not make one and a half to two full turns has threads that were cut too shallow. Shallow threads will not allow the pipe and the fitting to seal properly. A pipe that turns more than two full rotations in the fitting has threads that were cut too deep. A pipe with threads that are too deep may bottom out in the fitting, preventing the pipe and fitting from being tightened.
Pipe threading is not an exact science, it will take a little finesse and patience to successfully thread pipe and it is a good idea to test the threaded pipe on a regular basis. It is also important to remember that in most cases a sealant will be used on the pipe and fitting to prevent leaks. Using a sealant will allow the operator a bit of leeway when threading pipe.
The pipes themselves can also cause problems during threading. Pipes may not be true to their stated measurements. For example, a 1-inch pipe may be slightly smaller at 15/16 inches in diameter or slightly larger at 1-1/16 inches in diameter. The pipe may also be metric. A 25-millimeter pipe is slightly smaller than a 1-inch pipe but can look identical to the naked eye. Pipe variance must also be considered. Defects in the pipe from the manufacturing process can result in the pipe not being uniform from one end to the other. A pipe might measure 1 in. at the end, bow out to 1-1/16 in. at the middle before returning to 1 in. at the other end. It is always a good idea to periodically test the threaded pipe with a fitting to ensure a tight seal.
More information on Steel Dragon Tools die heads and dies can be found by following the links or calling customer service at 734-224-7112.
Steel Dragon Tools die heads and dies are available for purchase from Craig's Affordable Tools or Toolz Unlimited.