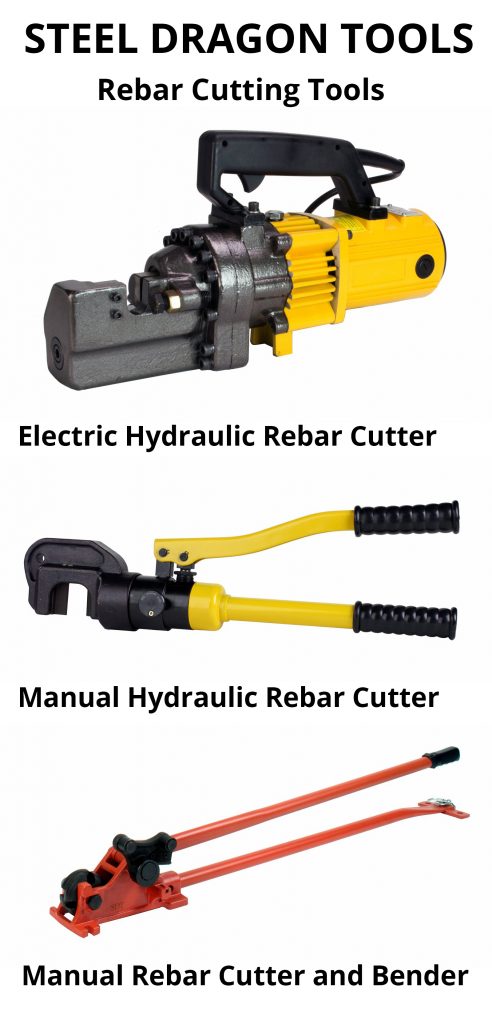 Rebar is one of the hidden materials of the construction world. It gets buried in concrete and quickly forgotten. But any concrete or masonry structure requires rebar and as a result, construction workers need to be able to cut the rebar to spec. There are several ways to cut rebar, including reciprocating saw, circular cutter and hand saw. Rebar cutters, both hydraulic and manual, will cut the rebar much quicker and more efficiently, saving construction companies valuable time on the work site.
Steel Dragon Tools manufacturers three types of rebar cutters; electric hydraulic, manual hydraulic, and manual. All three types are designed to quickly cut rebar and all three are portable and easy to use.
Electric Hydraulic Rebar Cutters
Steel Dragon Tools electric rebar cutters use an electric motor to drive a hydraulic pump. These machines come in three different cutting capacities. The RBC05 will cut 5/8-inch, #5 rebar. The RBC06 will cut 3/4-inch, #6 rebar. The RBC08 will cut 1-inch, #8 rebar. Each cutter will cut the specified size of rebar and below. All three offer a cutting speed of six seconds or less. These machines will cut construction rebar, deformed steel bar, round steel bar, and rebar rod. Each machine comes with a heavy-duty carrying case and tool kit. The tool kit includes wrenches, Allen wrenches, screw driver, and a one-time use hydraulic oil bottle.
Manual Hydraulic Rebar Cutter
The Steel Dragon Tools 22A manual hydraulic rebar cutter will cut up to 3/4-inch, #6 rebar. This cutter features a sturdy steel construction and comfortable rubber grips for ease of use. This cutter is ideal for smaller jobs that does not require a massive volume of cuts. The blades are made of forged steel and will cut construction rebar, deformed steel bar, round steel bar, and rebar rod.
Manual Rebar Cutter
The Steel Dragon Tools RBC625 is a manual rebar cutter and bender that will cut and bend 5/8-inch, #5 rebar. A 50-inch handles give the operator the leverage necessary to cut and bend the rebar. This cutter does not have a hydraulic pump. The RBC625 features mounting holes in the frame so that is may be secured to floor, allowing for easy, one-hand operation.
For more information on Steel Dragon Tools call 734-224-7112 or e-mail customer service here.
Steel Dragon Tools products are available for purchase from Affordable Tool and Toolz Unlimited. Steel Dragon Tools products can also be purchased at major online retailers like Amazon, Sears, and Walmart.