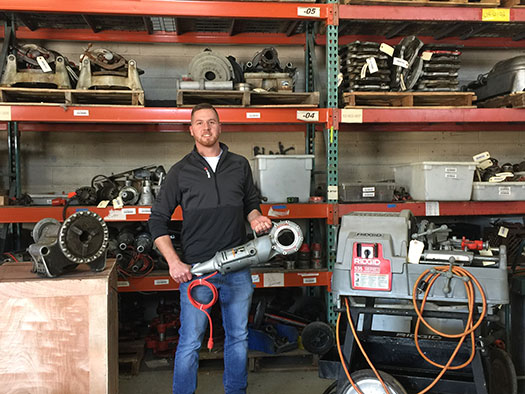 Who is this guy asking me to ship my threader?  Hey all, I am Brett LaVoy, manager of the RIDGID® reconditioning shop at Steel Dragon Tools.  I may have contacted you on Craigslist, Facebook Marketplace, OfferUp, eBay or Letgo. I am well aware of the scams and dishonest business practices that have plagued internet sales over the last decade or so.  I decided to write this blog to give insight of what I do here at Steel Dragon Tools and a bit of my personal life.  I hope to not just purchase your RIDGID® equipment but develop a long lasting relationship with you.
One of my main jobs here at Steel Dragon Tools is to purchase, used RIDGID® pipe threading equipment. Many of the used RIDGID® items I buy is from ads I find online.  Anyone who has sold anything online, especially on Craigslist, has probably encountered their fair share of scammers.  I have built a solid reputation personally and for my company by doing online transactions the correct way.  I encourage any of my prospective sellers to research our company, Steel Dragon Tools.  Steel Dragon Tools has been buying and refurbishing RIDGID® pipe threading machines and accessories for over 10 years. Steel Dragon Tools located in Erie, MI — just north of Toledo, OH.  I've been managing the refurbish shop Since the beginning of 2018, and have been with the company for over 7 years.  I am determined to build as many relationships as possible to help boost my reputation and purchases.
Along with purchasing used equipment, I also manage a crew of three highly skilled and talented technicians.  They do fantastic work and not a day goes by that they don't impress me with their craftsmanship.  I manage the inventory of used and refurbished equipment to ensure these machines are in stock and posted on the marketplaces.  I also oversea that the quality of the machines meets industry standards and make changes as necessary to the reconditioning process to further improve our machines.  I keep track of the competition on the marketplaces to ensure my items are priced correctly and are of better quality.  I also screen the ads for errors or mistakes, don't hesitate to drop me an email if you see errors in the ad titles, descriptions or photos… you would be helping me out!
When I'm not at work growing this department or out purchasing equipment I find myself busy doing my other passions.  I have an amazing wife Sarah, she is the greatest and is currently 4 months pregnant with our first child.  We are beyond excited to be parents!  I LOVE the sport of hockey, I play every single chance I get, sometimes 5 nights a week if I can.  Of course growing up in southern Michigan I am an avid Detroit Red Wings fan and I bleed blue.  I' am a huge car enthusiast, I love Chevy trucks, Camaros, Corvettes, CTS-V Cadillac's, even a few Mustangs… anything that is powerful and has a pure American V8 note coming from the exhaust.  I like to deer hunt and be outdoors whether it is warm or cold.   In the last 5 years I've been spending a lot of time and money renovating my house.  I have really enjoyed making it my own and learning along the way.
Enough about me, lets talk about what you really want to know!  How will you be getting paid and how will I get my equipment.
Payment
I can give you multiple options to get paid for your used equipment. I can do PayPal (my personal favorite), credit card (business to business transaction), or company check. Funds can be sent immediately with PayPal or credit card transaction. To issue a company check, the machine or accessories will need to be shipped to my shop before I can mail your check (once I send a check in the mail I cannot get it back).  Of course if I am picking up locally I can bring a check with me.  Company policy does not allow me to bring cash to pick up locations, this is for my safety.
Shipping
I have reliable shipping options with UPS. I use both their ground shipping and freight trucks for larger machines and purchases.
Freight Shipping
Pipe threading machines over 150lbs need to be shipped as freight. They will need to be secured to a pallet.  This can be accomplished using ratchet straps, banding or stretch wrap.  I always appreciate covering the machine(s) in cardboard to keep them protected.
Once the machine is ready to ship I will create a bill of lading, and address label, then email them to you.  I will schedule the pickup for a day and time convenient to you.  Before scheduled pick up time, please print the bill of lading and address labels.  The address labels will go on the pallet itself (just tape them on).  Print two copies of the bill of lading and give one to the driver when they arrive and have the driver sign one for you to keep(this is your proof of pick up).
Ground Shipping

We make shipping smaller items easy! I will locate a UPS Store near you to set up shipping. I will let you know where the store is located, and let them know you are coming in to drop off tools for me.   I will pay UPS to package the items and will provide them with a shipping label. When it is convenient for you, take the machine to the designated UPS location and we will handle it from there.
If you prefer to box and tag the items yourself, that works as well.  Just let me know the weight and dimensions of the box and I will send you a prepaid UPS label.   Then you would just have to tape the label onto the box and drop off at any UPS location.
If you are local, I can pick up the machine or you can drop it off here.  If you stop in and see me I'd love you show you our operation and reconditioned machines.
Thank You!
Thank you for taking the time to learn a little more about me and Steel Dragon Tools.  I hope this information was helpful to make our transaction smooth and easy.  I look forward to working with you.
Contact Brett
For more information on selling a used pipe threader or accessories, please contact Brett directly at 734-735-0378 or e-mail here. That is my cell phone, yes you can text me and send me pictures on it.