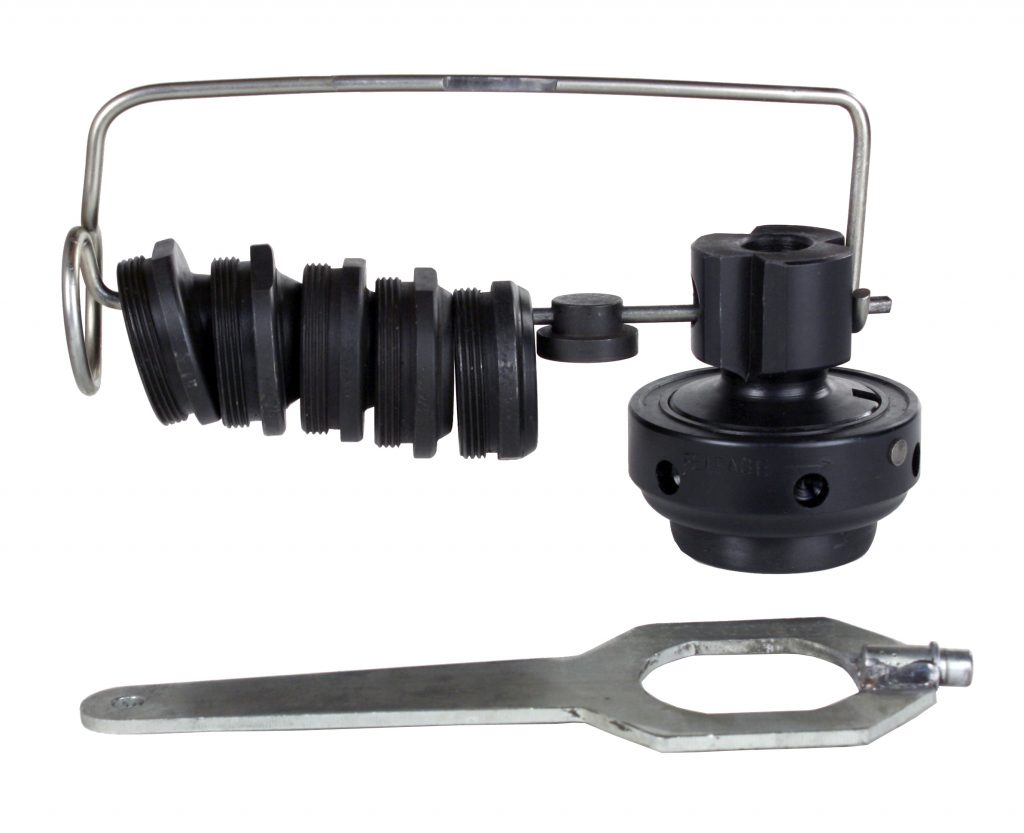 The Steel Dragon Tools 819 is a nipple chuck adapter used to create pipe nipples on 1/2-inch to 2-inch pipe. The Steel Dragon Tools 819 can be used with both RIDGID® and Steel Dragon Tools pipe threading machines, including model numbers 300, both power drive and compact, as well as 535, 1882, and 1224.
The Steel Dragon Tools 819 package includes a nipple chuck wrench, adapter hanger for storage, standard insert and five adapters: 1/2 in., 3/4 in., 1 in., 1-1/4 in., and 1-1/2 in. The base itself serves as the 2-inch adapter.
To create a pipe nipple, install pipe into the threading machine and thread pipe as normal. Cut the pipe to the desired length. Install the Steel Dragon Tools 819 nipple adapter into the pipe threading machine and screw the threaded end of pipe into the adapter. Do not over-tighten the pipe into the nipple adapter. Hand tight will be sufficient. Once the pipe is secure in the adapter, thread it as normal.
It is important to make sure the initial thread is the correct dimensions. If the threads are over-sized or under-sized, the pipe may become lodged in the adapter. Removing a lodged pipe will require a pipe wrench and considerable force. Test the threads with a thread gauge or corresponding fitting to ensure the threads are dimensionally correct. A fitting should turn 1-1/2 to 2 turns on a properly threaded pipe.


Insert the plug end of the nipple chuck wrench into the holes in the adapter to release the tension spring inside the adapter. Unscrew the pipe from the adapter while relieving the tension. A pipe wrench may be required to unscrew the pipe from the adapter. The pipe can become lodged in the adapter if the threads are not dimensionally correct. The pipe will tighten by itself in the adapter during the threading process.
For more information about Steel Dragon Tools please call contact Customer Service at 734-224-7112 or by e-mail here.
The full line of Steel Dragon Tools are available for purchase from Craig's Affordable Tools or Toolz Unlimited.
RIDGID® marks are trademarks of RIDGID, Inc and are used only for product identification purposes.