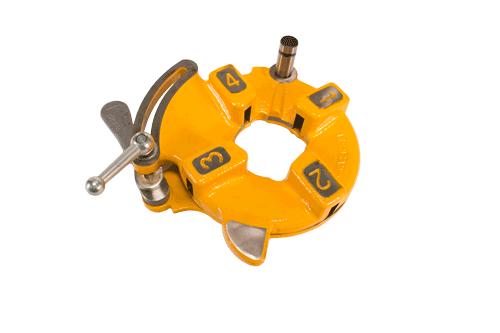 Replacing or installing new dies in the Steel Dragon Tools 811A Die Head is quick and easy. Lay the die head on a stable surface and move the handles to make the scroll inside the die head retract. The scroll holds the dies in place.
Once the scroll has retracted, slide the die into the die head. The scroll must be fully retracted to remove or install a die into the die slot. Each die is marked with a number and should slide into the corresponding die slot on the die head.
Push the die into the die slot up to the marked line on the top of the die. Once all four dies have been inserted, move the handle to re-engage the scroll, securing the dies in the die head. Some adjustment on each die may be needed if the scroll will not fully engage.
Wiggling the dies back and forth while moving the handle will usually remedy the problem. Once the dies are firmly in place, reinstall the die head onto the pipe threading machine.
Having multiple die heads with
different-sized dies can reduce work stoppage. Utilizing two die heads with different sets of dies will reduce the work load from switching outs dies when threading a variety of pipe sizes and materials. Simply remove the die head from the machine, install the second die head with a different die set, and continue threading pipe.
Steel Dragon Tools dies and die heads are interchangeable with compatible dies and die heads from a variety of manufacturers. Steel Dragon Tools die heads will fit compatible machines and will accept compatible dies. Steel Dragon Tools dies will fit compatible die heads as well.
For more information on Steel Dragon Tools dies and die heads, please contact customer service by e-mail or by phone at 734-224-7112.
The full line of Steel Dragon Tools dies and die heads are available for purchase from Craig's Affordable Tools or Toolz Unlimited.