Check out the new Steel Dragon Tools 7991 Power Pipe Threading Machine.  There is nothing else quite like it on the market!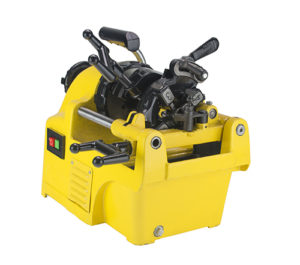 The Steel Dragon Tools 7991 is a self-oiling, 1/2-inch to 1-inch, pipe threading machine with quick-opening die head and auto shut off. The Steel Dragon Tools 7991 offers a large carriage and cutter handles with unique one blade reamer. The pipe threading machine is light and compact with a built in carrying handle. Includes die head, dies, replacement brush set, oiling can, and mounting tools.
Pipe Capacity: 1/2 in. to 1 in.
Will thread 1-inch pipe in 16 seconds.
Motor: 110 V, 50/60 Hz, 650 W, 25RPM (no load speed)
Motor has brake from enhanced operational safety.
Fits Wheeler Rex® dies.
Quick-open, auto-oiling, notch type die head.
Front and rear chucks.
Safety auto-shut off.
Large carriage and cutter handles.
Unique one-blade reamer.
Large scrap tray.
Built-in carrying handle.
Steel Dragon Tools is not an authorized distributor of Wheeler Rex® products. Wheeler Rex® Marks are trademarks of Wheeler Rex® and are used for product identification purposes only.