Steel Dragon Tools carries a full line of lifting magnets. These magnets are made with powerful N45 neodymium magnets. Neodymium magn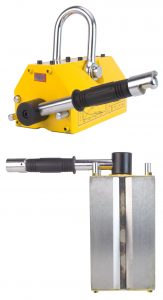 1,320 lbs., 2,200 lbs., and 4,400 lbs. These magnets can be used to lift and move magnetic material including steel sheet, steel block, steel rod, and more.
All Steel Dragon Tools lifting magnets feature an easy-to-use handle control that will turn the magnet on and off. A heavy-duty hook on all lifting magnets can be used to attach the magnet to a crane, hoist, or chain that can be attached to a forklift. Steel Dragon Tools lifting magnets makes it safe and easy to move heavy or large pieces of magnetic material.  These industrial-grade magnets are perfect for general shop use or more specific use in metal working and automobile restoration.
The Steel Dragon Tools lifting magnet is available in five models:
Steel Dragon Tools also offers a full line of hanging magnets as well as rolling magnets.
To purchase any Steel Dragon Tools lifting, hanging or rolling magnets visit Craig's Affordable Tools or Toolz Unlimited.
For more information on any of the magnet tools made by Steel Dragon Tools, please contact customer service by e-mail here or by phone at: 734-224-7112.