Introducing the Steel Dragon Tools Electric Pipe Hole Cutting Machine. The SDT JK150 pipe hole cutter is designed to cut up to 6-inch dia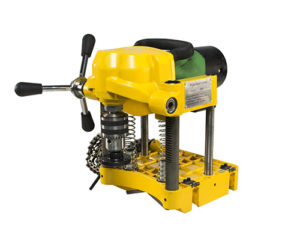 meter holes in unpressurized pipe up to 12-inches in diameter. This professional-grade hole cutting machine features a built-in level to ensure precise alignment when cutting multiple holes for fittings or welded saddles. A heavy-duty keyed chuck will accept a variety of hole saws and hole saw arbors, with chuck sizes from 1/8 in. to 5/8 in. An integral motor and gear reduction optimizes the performance of large diameter hole saws.
The Steel Dragon Tools JK150 has the ability to cut through a variety of materials. This pipe hole cutter is powered by a 1,500-watt motor, with a drill chuck speed of 110 RPM under no load. The hole cutter features a cast iron housing coated in industrial-strength enamel paint with a sealed ON/OFF switch.
To purchase the Steel Dragon Tools JK150 visits Craig's Affordable Tools or Toolz Unlimited.
For more information on the Steel Dragon Tools JK150 call 734-224-7112 or e-mail customerservice@steeldragontools.com.