K60 Sectional Drain Cleaning Machine
SKU:

SDT-K60

UPC:

817482026417
Dimensions:

30" x 20" x 20"

Weight:

106 lbs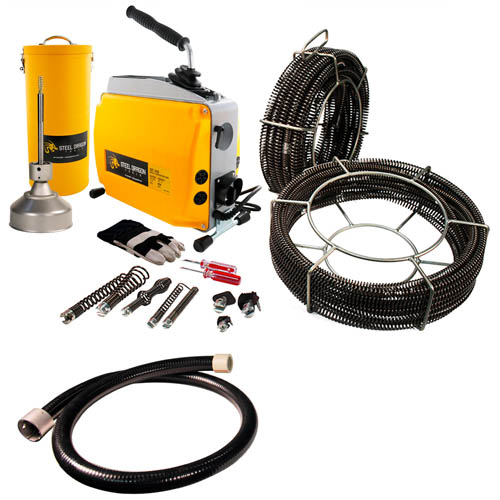 The Steel Dragon Tools® K-60 Drain Cleaner is a versatile machine capable of cleaning drain lines from 3/4-inch up to 6-inches in diameter. This package includes three different types of drain cleaning cable and cable carriers, an assortment of cable attachments, gloves, pin keys, and rear hose guide. The Steel Dragon Tools® K-60 is compatible with c10 cables and attachments.
Features:
Drain Line Capacity: 3/4 in. to 6 in.
Compact, versatile, and easy to use.
Support bars allows user to adjust cable angle and working height to accommodate different working environments.
Easy to use handle creates cable to spin at 400 RPM and stops immediately upon release.
Fits sections of 5/8-inch cable (C7, C8, and C9)
Fits C1 5/16-inch cable
Helps remove various blockages in pipelines.
Motor: 250 W, 110 V, 50 Hz
Dimension: 17 in. x 15 in. x 15 in.
CE Approved
Package Includes:
Steel Dragon Tools® K-60 Drain Cleaning Machines
40 ft. of C8 5/8-inch All Purpose Wind Cable. Five 8-foot sections with A-10 Cable Carrier.
45 ft. of C10 7/8-inch All Purpose Wind Cable. Three 15-foot sections with A-10 Cable Carrier.
35 ft. of C1 5/16-inch All purpose continuous length cable with A17 Drum.
Rear guide hose included.
SDT-63045 5/8-inch T-213 1 in. 4-Blade Cutter
SDT-55457 5/8-inch T-225 Retrieving Auger
SDT-62990 5/8-inch T-201 5 in. Straight Auger
SDT-6299X 5/8-inch T-20X Dual Bulb Auger
SDT-62855 7/8-inch T-102 Funnel Auger
SDT-62935 7/8-inch T-113 4-Blade Cutter 3 in.
SDT-62850 7/8-inch T-101 Straight Auger
SDT A-12 Pin Key for 7/8-inch Cable
SDT A-13 Pin Key for 5/8-inch Cable
Carrying case for A17 Drum, Cutters, and Augers
Steel Dragon Tools® offers a wide variety of professional-grade tools and high-quality replacement parts. Backed by years of manufacturing excellence and coupled with the latest technology, Steel Dragon Tools products provide incredible craftsmanship at an unbeatable value.