K50 Drum & Sectional Drain Cleaning Machine
SKU:

SDT-K50

UPC:

817482026370
Dimensions:

20" x 19" x 19"

Weight:

63 lbs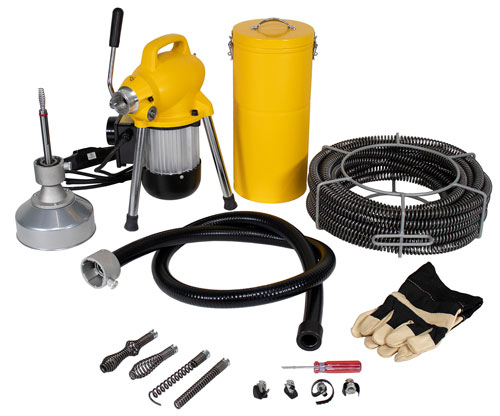 The Steel Dragon Tools® K-50 Sectional Drain Cleaning Machine will clean 3/4-inch to 4-inch pipe. The K-50 can be used on sinks, showers, and floor drains. This machine is designed for commercial or residential applications. The K-50 is compact, versatile, and will use 5/16-inch, 3/8-inch, or 5/8-inch cable. The leading auger cable starts with a bulb auger. Package includes A-17 adapter, C-1 cable, C-8 cable, and an assortment of cutters and augers.
Package Includes:
Steel Dragon Tools® K-50 Sectional Drum Pipe Drain Cleaner
A-17 Adapter, C-1 Cable, with Bulb Auger 3/8 in. x 18 ft. 59250
C-8 Cable 5/8 in. x 64-1/2 ft. (eight 8-foot sections) with 5/8 in. female adapter 62270
A-14 Rear Guide Hose (4-1/2 ft.) 59235
Spiral Cutter 1-inch (remove roots, debris, sludge) 63015 T-207
Grease Cutter 1-inch (remove cream and residue on pipe walls) 63030 T-210
Four-Blade Cutter 1-inch (remove materials, chemical deposits) 63045 T-213
C-Cutter 1-3/8-inch (remove cream, soap from pipe walls) 63005 T-205
Retrieving Auger 1-inch (collecting broken flexible shaft cable in the pipe) 55457 T-225
Bulb Auger 1-1/8-inch (guide and drill cable through complicated pipe path) 62995 T-202
Funnel Auger 3-inch (removing blockage residue on pipe wall) 63010 T-206
Straight Auger 5-inch (exploring pipe blockage, first step) 62990 T-201
A-13 Coupling Pin Key 59230
A-10 Cable Carrier
Specifications:
Motor: 1/6 HP, 400 RPM, 115 V, 60 Hz, with FWD/REV
For use with RIDGID® or Steel Dragon Tools C-8 Cable
Steel Dragon Tools cutters and augers can be used with compatible RIDGID® Drain Cleaners.
WARNING! This product can expose you to chemicals including lead, which is known to the state of California to cause cancer and birth defects or other reproductive harm. For more information, go to www.P65Warnings.ca.gov. Wash hands after handling.
Steel Dragon Tools® offers a wide variety of professional-grade tools and high-quality replacement parts. Backed by years of manufacturing excellence and coupled with the latest technology, Steel Dragon Tools products provide incredible craftsmanship at an unbeatable value.
We are not an authorized distributor of RIDGID® and/or Ridge products. RIDGID® Marks are trademarks of RIDGID, Inc and are used for product identification purposes only.