K50 Drum & Sectional Drain Cleaning Machine
SKU:

SDT-K50

UPC:

817482026370
Dimensions:

20" x 19" x 19"

Weight:

63 lbs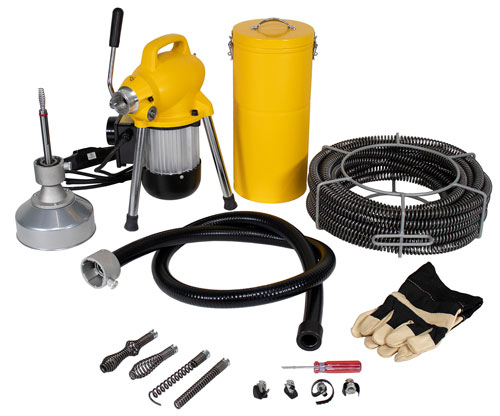 The Steel Dragon Tools® K-50 Drain Machine is considered by Professional Plumbers to be the perfect all around Sink, Shower, and Floor Drain machine. This Compact Versatile machine is capable of using 5/16″, 3/8″, and 5/8″ Cables. It cleans drains from 3/4″ up to 4″ and runs up to 130 feet so it will tackle any job.
Drain Cleaner uses 8'sections of 5/8″ cable to clean 1-1/4″ – 4″ lines up to 130 feet
 A-17 Drum Adapter packs 18′ of 5/16″ cable with a bulb auger end perfect for kitchen and bathroom sinks and drains
 Easy to Use cable clutch increases operator control of the cable.
Includes:
Steel Dragon Tools® K-50 4″ 400 Rpm Sectional Drum Pipe Drain Cleaner
1/6 HP Forward / Reverse Motor 400 RPM 115 Volt 60 HZ
7.5′ power cord with durable heavy duty industrial grade GFCI breaker cord
GFCI Protection is great for job sites, basements and garages that have a damp or wet environment
5/16″ x 18'A-17 Adapter with Bulb Auger 59250
5/8″ x 65′ C-8 Cable (eight 8′ sections) with 5/8″ Female Adapter 62270
A-14 Rear Guide Hose 4.5 ft 59235
1″ Spiral Cutter 63015 T-207 (remove roots, debris, sludge)
1″ Grease Cutter 63030 T-210 (remove cream and residue on pipe walls)
1″ 4 Blade Cutter 63045 T-213 (remove materials, chemical deposits)
1-3/8″ "C"-Cutter 63005 T-205 (remove cream, soap from pipe walls)
1″ Retrieving Auger T-225 55457 (collecting broken flexible shaft cable in the pipe)
1-1/8″ Bulb Auger T-202 62995 (guide and drill cable through complicated pipe path)
3″ Funnel Auger T-206 63010 (removing blockage residue on pipe wall)
5″ Straight Auger T-201 62990 (exploring pipe blockage, first step)
A-13 Coupling Pin Key 59230
A-10 Cable Carrier
Steel Dragon Tools® offers a wide variety of professional-grade tools and high-quality replacement parts. Backed by years of manufacturing excellence and coupled with the latest technology, Steel Dragon Tools products provide incredible craftsmanship at an unbeatable value.