45207 Ratchet Cable Cutter
SKU:

SDT-45207

UPC:

817482023324
Dimensions:

12" x 6" x 2"

Weight:

4 lbs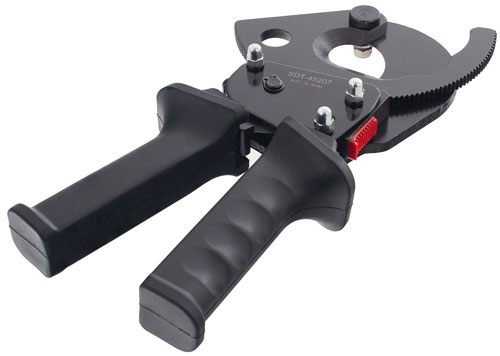 The Steel Dragon Tools 45207 is a handheld, two-stage, ratchet cable and wire cutter with optimized shape for a smooth cut that will not crush the wire. This cutter features a compact design for use in confined areas. The two-stage ratchet mechanism requires very little power to cut through cable up to 1,000 MCM. Handles have an anti-slip guard for secure grip. Blade release allows blades to be opened mid cut.
Specifications:
Cuts aluminum and copper wire.
Aluminum Maximum Cutting Range: 1,000 MCM, 500 mm², 1.152 in.
Copper Maximum Cutting Range: 750 MCM, 400 mm², 1.026 in.
Overall Length: 11.5 in.
Handle Length: 6.5 in.
Net Weight: 2.16 lbs. (0.98 kg)
Does not cut steel, ACSR, or wire rope.
Replaceable blades are wear items and not covered under warranty.
Steel Dragon Tools® offers a wide variety of professional-grade tools and high-quality replacement parts. Backed by years of manufacturing excellence and coupled with the latest technology, Steel Dragon Tools products provide incredible craftsmanship at an unbeatable value.