CPC-40B Hydraulic 6 Ton ACRS Cable Cutting Head
SKU:

SDT-CPC-40B

UPC:

817482025816
Dimensions:

14" x 8" x 4"

Weight:

21 lbs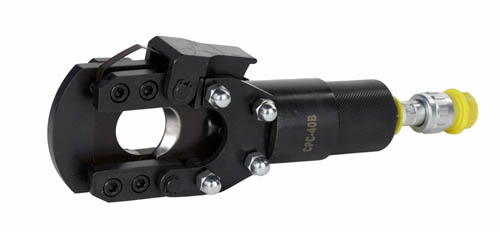 The Steel Dragon Tools CPC 40B is a hydraulic cable cutter head with six tons of cutting force. The 40B will cut through ACSR cable up to 40 mm and stranded steel cable up to 28 mm. This cutter features two-stage hydraulics to reduce the cutting cycle and a 360-degree, flip-open head, allowing the operator to make cuts in confined areas. The manual hydraulic release head quickly opens once the cut is made.
Specifications:
Cuts ACSR and stranded steel cable.
Maximum ACSR Cable Cutting Range: 1-1/2 in. (40 mm)
Maximum Stranded Steel Cable Cutting Range: 1 in. (28 mm)
Maximum Cutting Force: 6 Tons
Overall Length: 23.5 in.
Handle Length: 5 in.
Net Weight: 12.34 lbs. (5.6 kg)
Includes extra seal kit and heavy-duty steel carrying case.
Oil Capacity: 0.27 oz. (8 ml)
Hydraulics use premium hydraulic oil (SAE Grade 15, ISO Viscosity Grade 46)
Does not cut steel, ACSR, or wire rope.
Fits Greenlee® 767 Bender, 777 Bender, 782 Bender, 880 Bender, 882 Bender, 884 Bender, 885 Bender with no adapter necessary.
Fits Greenlee® 750 Cable Cutter, 800 Cable Bender, 1731 C-Frame Punch Driver with 1/4-inch male x 3/8-inch female NPT adapter.
Fits Greenlee® SDK202GL Cable Cutter, RK06AT, RK06FT, RK1230, RK1240, RK1240K Crimping Head, RCCX, RK1550 with 3/8-inch female x 3/8-inch female NPT adapter.
Replaceable blades are wear items and not covered under warranty.
Steel Dragon Tools® offers a wide variety of professional-grade tools and high-quality replacement parts. Backed by years of manufacturing excellence and coupled with the latest technology, Steel Dragon Tools products provide incredible craftsmanship at an unbeatable value.