Reconditioned RIDGID® 1822-I Auto Chuck Pipe Threading Machine 20000 and 150A Stand
SKU:

RD-RF-1822-CRT

UPC:

819891025562
Dimensions:

48" x 48" x 48"

Weight:

450 lbs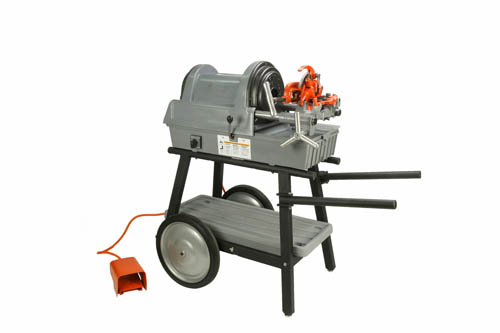 The RIDGID® (Reconditioned) 1822-I Automatic-Chucking Pipe Threader has been cleaned, repaired, and prepared for professional use. Each RIDGID® (Reconditioned) machine is disassembled, cleaned, inspected, painted, reassembled and tested. All RIDGID® (Reconditioned) machines run like new and feature a one (1) year warranty against manufacturer defects.
Package Includes:
RIDGID® (Reconditioned) Model 1822-I Pipe Threader with foot pedal.
RIDGID® (Reconditioned) 815A Universal Self-Opening Die Head.
One (1) set of SDT 47765 1/2 in. to 3/4 in. universal high-speed dies.
One (1) set of SDT 47770 1 in. 2 in. universal high-speed dies.
RIDGID® (Reconditioned) 364 pipe cutter, full-floating, self-centering with E-1032 cutting wheel.
RIDGID® (Reconditioned) 344 pipe reamer.
New RIDGID® 92462 150A Universal Wheel and Tray Stand.
Steel Dragon Tools® Reconditioned RIDGID® 1822-I Pipe Threader Features:
Will thread a wide variety of pipe including black, galvanized, stainless steel, IMC, PVC, and heavy wall conduit.
Heavy-duty automatic chucking.
Triple-filtration on the oil pump prolongs pump life and produces clean threads.
Equipped with foot pedal for hands-free operation.
For use with 815A quick-opening die heads.
Induction motor runs at a constant 45 or 16 RPM.
Specifications:
Pipe Threading Capacity: 1/8 in. to 2 in. (3 mm-50 mm) or 2-1/2 in. to 4 in. (62 mm-100mm) with 141 Geared Threader
Bolt Threading Capacity: 1/4 in. to 2 in. (6mm-50mm)
Pipe Cutting Capacity: 1/8 in. to 2 in. (3 mm-50 mm)
Motor: 1/2 HP, 115 V, 60 Hz, 38 RPM, single-phase induction.
Motor Control: Open/Off/Close with heavy-duty rotary switch and foot switch.
Transmission: Two (2) speeds (45 RPM for standard pipe and 16 RPM for low voltage use and special materials).
Spindle Speed: 45 and 16 RPM, right hand, can be adapted to left-hand operation
Front Chuck: Automatic gripping and centering.
Rear Centering Device: Automatic (centering only).
Clutch: Shifting cone-type.
Oil Pump: Self-priming gerotor.
This video goes into great depth of the RIDGID® 300 power drive reconditioning Process, but each of our machines and parts are done with the same care to detail and the end result is a high quality reconditioned tool with warranty.
Steel Dragon Tools® offers a wide variety of professional-grade tools and high-quality replacement parts. Backed by years of manufacturing excellence and coupled with the latest technology, Steel Dragon Tools products provide incredible craftsmanship at an unbeatable value.
We are not an authorized distributor of RIDGID® and/or Ridge products. RIDGID® Marks are trademarks of RIDGID, Inc and are used for product identification purposes only.
Tools repaired and reconditioned by Steel Dragon Tools voids original warranties and certifications from Ridge Tool.