1224 Threading Machine 1/2″ – 4″
SKU:

SDT-1224

UPC:

817482021658
Dimensions:

36" x 24" x 24"

Weight:

392 lbs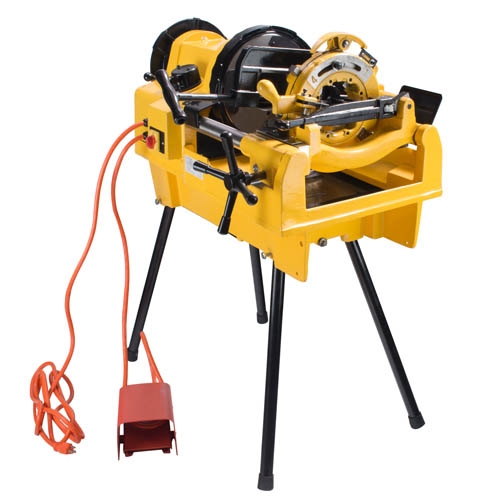 Steel Dragon Tools® offers a large range of power pipe threading machines and accessories.  We are the affordable alternative for plumber's, pipe fitters, HVAC, and fire sprinkler contractors.
The SDT 1224 Pipe Threading Machine is used for Threading, Cutting, and Reaming various sizes of Water, Electric, and Gas Pipes ranging from 1/2″-4″ Inches NPT and NPSM Threads. The 1224 threads a wide range of pipe including black, galvanized and plastic-coated pipe, together with stainless steel, IMC and heavy-wall conduit, as well as rod up to 30 Rockwell C.
The Automatic Geared Self Oiling System allows the user to Automatically oil dies and make them last longer.
1/4″-2″ Universal Die Head; 2 1/2″-4″ receding die head allows cutting of tapered or straight NPT and NPSM Threads
711 and 714 Die Heads work with RIDGID® Dies (RIDGID® 26192) (RIDGID® 47765) (RIDGID® 47770)
The 1500 Watt 2 HP induction motor has extra Torque for large pipe and quiet operation for any Indoor setting
Foot Pedal allows the operator to easily control the RPM's and Safely Operate Machine
High Torque Three Speed Induction motor goes in Forward and Reverse for easy clean up of the threads and removal of pipe
Includes:
1/2″-4″ Pipe Threading Machine
Motor: High Torque 1500 Watt 2 HP Induction 115V 60 hz Forward and Reverse
Spindle Speed: 36 RPM (1/2″-3/4″), 20RPM (1″-2″), 11RPM (2 1/2″-4″)
Heavy Duty Foot Pedal with attached plug
Steel Dragon Tools® 711 1/2″-3/4″ and 1″-2″ Universal Self Opening Die Head fits RIDGID® Dies (NPT/NPSM Threads)
Steel Dragon Tools® 714 2-1/2″-4″ Receding Self Opening Head fits RIDGID® Dies (NPT/NPSM Threads)
(set of 4) High Speed Steel Pipe Dies 1/2″-3/4″ NPT (47765)
(set of 4) High Speed Steel Pipe Dies 1″-2″ NPT (47770)
(set of 4) High Speed Steel Pipe Dies 2-1/4″- 4″ NPT (26192)
Steel Dragon Tools® 764 Full Floating Self Centering Pipe Cutter
Steel Dragon Tools® 744 Reamer 1/4″ – 4″ Blade Style
Includes 2 Extra Drive Belts
(4) 1″ Steel legs
Sturdy Wooden Shipping Crate Bolted to the Machine for delivery.
**Sorry machine does not include threading oil**
Technical Specifications:
Range of Work: 1/2″-4″ NPT or NPSM
All Aluminum Body
Hammer Type Chuck with replaceable Jaw inserts
Cam action rear centering chuck
Electric Motor :1500 Watt 2 HP 60hz Heavy Duty 115 volt with 3 Speed Transmission
HSS Dies Rockwell Hardness (HRC) 58-62
Maximum Rotation Speed: 36 RPM
Maximum Chuck Capacity: 4.925 inches or 125mm
Carriage Travel: 7″ or 180 mm
Dimensions: 36″ (L) x 22″ (H) x 17″ (D)
Weight: 392 lbs
The above video is a Short Commercial Video. Follow these links for More information.
Steel Dragon Tools® offers a wide variety of professional-grade tools and high-quality replacement parts. Backed by years of manufacturing excellence and coupled with the latest technology, Steel Dragon Tools products provide incredible craftsmanship at an unbeatable value.
We are not an authorized distributor of RIDGID® and/or Ridge products. RIDGID® Marks are trademarks of RIDGID, Inc and are used for product identification purposes only.