418 Oiler and Oil
SKU:

SDT-418-RD

UPC:

817482022921
Dimensions:

17" x 17" x 10"

Weight:

20 lbs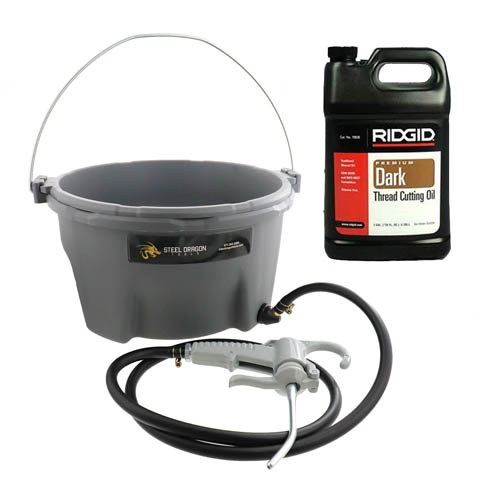 418 Handheld Oiler and Oil
This package includes the Steel Dragon Tools 418 Handheld Oiler Bucket and one (1) gallon of RIDGID® Dark Pipe Threading Oil.
The Steel Dragon Tools 418 Handheld Oiler Bucket is for use with pipe threading machines. This oiler bucket will fit compatible Steel Dragon Tools pipe threading machines including the 300, 535, 700, 12-R, and 690.

Steel Dragon Tools 418 Specifications:
Works with 300, 535, 700, and 12-R Pipe Threaders.
Provides 50 percent more oil per stroke than other hand-held oilers.
Ergonomic two-finger trigger design reduces user fatigue.
Die-cast body and swivel nozzle with no exposed parts.
Convenient anti-slip grip design with integral hook for easy hanging.
Heavy-duty reservoir withstands abrasion and will not rust.
Integral molded body eliminates leaks at the hose/reservoir connection.
RIDGID®  Dark Pipe Threading Oil Specifications:
Container Size: One (1) Gallon
Traditional high-performance mineral oil formulated to produce superior-quality threads on stainless steel and black pipe.
Cools threads and pipe during operation.
Speeds metal removal and improves thread quality.
RIDGID® Dark Pipe Threading Oil does not containing chlorine and other halogens, PCBs and heavy metals
Steel Dragon Tools® offers a wide variety of professional-grade tools and high-quality replacement parts. Backed by years of manufacturing excellence and coupled with the latest technology, Steel Dragon Tools products provide incredible craftsmanship at an unbeatable value.
We are not an authorized distributor of RIDGID® and/or Ridge products. RIDGID® Marks are trademarks of RIDGID, Inc and are used for product identification purposes only.