JK114 Pipe Hole Cutter
SKU:

SDT-JK114

UPC:

0817482027858
Dimensions:

14" x 22" x 12"

Weight:

40 lbs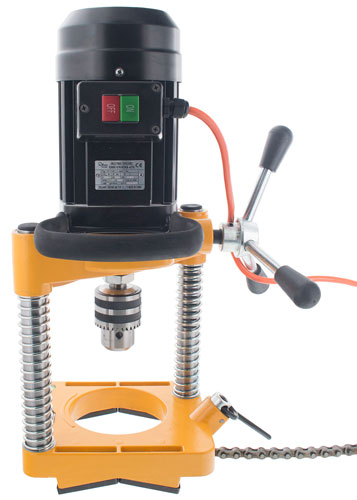 The Steel Dragon Tools® JK114 pipe hole cutter is designed to cut up to 4-inch diameter holes in unpressurized pipe up to 8-inches in diameter. This pipe hole cutter is light-weight and easy to transport. A built-in level will assure excellent alignment when cutting multiple holes for fittings or welded saddles. The heavy-duty keyed chuck can accommodate a variety of hole saws and hole saw arbors, with chuck sizes from 1/8 in. to 5/8 in.
The Steel Dragon Tools® JK114 is ideal for mechanical and industrial applications with the ability to cut through a variety of materials. This pipe hole cutter is powered by a 500-watt motor with a drill chuck speed of 110 RPM under no load. The hole cutter features a cast iron housing coated in industrial-strength enamel paint.
The Steel Dragon Tools® JK114 features a three-prong handle that can be fit into handle feeds on either the left or the right side as well as a front handle. A ball bearing release on the handle allows for quickly changing the side of operation.
Specifications:
Hole Cutting Capacity: 4 in. (114 mm)
Pipe Mounting Capacity: 1-1/4 in. to 8 in. (32 mm to 220 mm)
Drill Chuck Capacity: 1/8 in. to 5/8 in. (3 mm to 16 mm)
Drill Chuck Speed: 110 RPM (no load)
Motor Specs: 500 W, 110 V, Induction
Comparable to RIDGID® motor.
Spring-loaded ball bearing release handle for dual side operation.
Can be used for dry or oiled hole cutting.
Stand is not included.
Compatible stand: SDT-460
Steel Dragon Tools® offers a wide variety of professional-grade tools and high-quality replacement parts. Backed by years of manufacturing excellence and coupled with the latest technology, Steel Dragon Tools products provide incredible craftsmanship at an unbeatable value.
We are not an authorized distributor of RIDGID® and/or Ridge products. RIDGID® Marks are trademarks of RIDGID, Inc and are used for product identification purposes only.