1-3/4″ Magnetic Drill Press MD45
SKU:

SDT-MD113

UPC:

817482026554
Dimensions:

8" x 20" x 18"

Weight:

52 lbs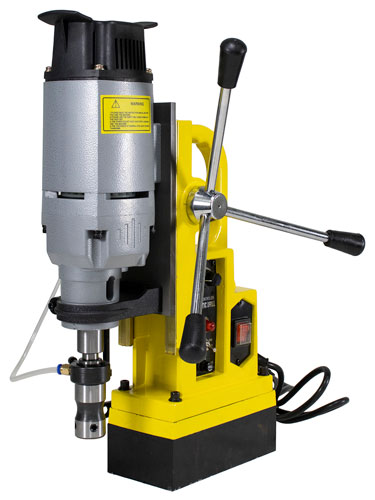 The Steel Dragon Tools® MD45 Magnetic Drill Press with 2,700 lbs. of magnetic force ensures the press will not move during operation. This press will attach directly to the metal surface to drill precision holes quickly and safely. The Steel Dragon Tools® MD45 offers a maximum boring depth of 7 in. and a maximum boring diameter of 1-3/4 in. The MD45 has an MT2 spindle taper and comes with an MT2 to 3/4-inch Weldon Shank converter. Features a variable-speed motor.
A secured magnetic drill press provides more leverage than a hand drill, allowing the operator to cut even, consistent holes. The magnet also allows the drill to operate upside down.
A full line of 1-inch and 2-inch HSS annular cutters by Steel Dragon Tools® are available.
Specifications:
Model: MD45
Suitable for drilling on any metal surface.
Adjustable base for precision drilling.
Motor: Variable Speed, 1200 W, 110 V, 50/60 Hz
Maximum Magnetic Force: 2,700 lbs. (12,000 N). Thinner metal will result in less force.
Maximum Boring Diameter: 1-3/4 in. (45 mm)
Maximum Boring Depth: 7 in. (180 mm)
Spindle Speed: 0-500 RPM
Spindle Taper: MT2
Includes MT2 to 3/4-inch Weldon Adapter spindle adapter.
One (1) year warranty against manufacturer defect.
Steel Dragon Tools® offers a wide variety of professional-grade tools and high-quality replacement parts. Backed by years of manufacturing excellence and coupled with the latest technology, Steel Dragon Tools products provide incredible craftsmanship at an unbeatable value.