1/2″ Magnetic Drill Press MD13
SKU:

SDT-MD101

UPC:

817482026486
Dimensions:

8" x 16" x 16"

Weight:

29.94 lbs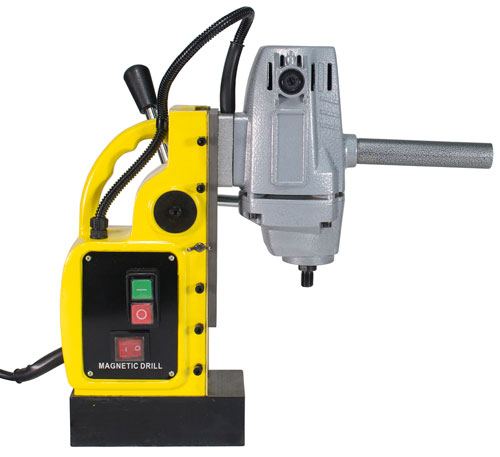 The Steel Dragon Tools® MD13 Magnetic Drill Press has a 1/2-inch maximum boring diameter with 1,910 lbs. of maximum magnetic force to ensure the press will not move during operation. This press will attach directly to the metal surface to drill precision holes quickly and safely. The MD13 has a 650-watt motor and offers a 5-1/2 in. maximum boring depth. The MD13 has a 5/8-inch screw-type chuck with 1/2-20 UNF (United National Fine Thread) and includes a 3/4-inch Weldon shank adapter.
A secured magnetic drill press provides more leverage than a hand drill, allowing the operator to cut even, consistent holes. The magnet also allows the drill to operate upside down.
Specifications:
Motor: 650 W, 110 V, 50/60 Hz
Max Magnetic Force: 1,910 lbs. (8,500 N). Thinner metal will result in less force.
Maximum Boring Diameter: 1/2 in. (13 mm)
Maximum Boring Depth: 5-1/2 in. (140 mm)
Spindle Speed: 550 RPM
Tool Holder: Screw-Type Chuck with 1/2-20 UNF
5/8 in. screw-type universal drill chuck 1/2-20 UNF.
3/4 in. Weldon shank adapter.
Steel Dragon Tools® offers a wide variety of professional-grade tools and high-quality replacement parts. Backed by years of manufacturing excellence and coupled with the latest technology, Steel Dragon Tools products provide incredible craftsmanship at an unbeatable value.