2″ Magnetic Drill Press MD50
SKU:

SDT-MD-JIC-28C

UPC:

817482026769
Dimensions:

10" x 20" x 18"

Weight:

64.25 lbs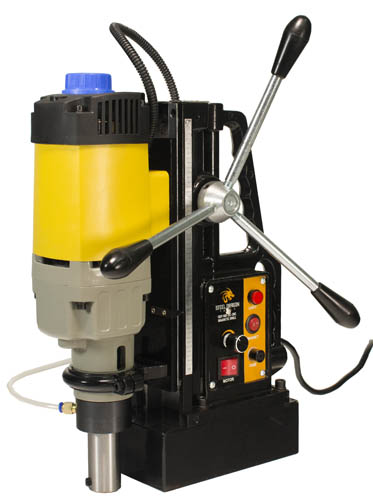 The Steel Dragon Tools® MD50 fits up to 2″ HSS Annular Cutters. Using a 2900lbs Max Force electromagnet in its base the MD50 sticks directly to the metal surface you are drilling. The power of the magnet ensures the machine will not move, even when drilling through thick metal. The strong base provides more leverage than a hand drill does, allowing the user to make more even holes without the wobble of a hand drill. The magnet also allows the drill to operate upside-down, underneath a piece of metal. A Powerful 1300 watt Motor with a variable speed switch delivers for the toughest drilling jobs. A full line of 2″ and 1″ depth HSS Annular Cutters are available.
Performance:
Suitable for drilling on any metal surface
Powerful 1300W Induction 110V 60Hz 15 Amp high-speed series motor
2900lbs (13000N) Max Magnetic Force (Thinner Metal = Less Force)
Variable Speed Switch
Rack and Pinion Gear System for Exact Drilling Depth
Maximum Boring Diameter.: 2″ (50mm)
Maximum Boring Depth : 8.5″
Tool Holder: 3/4″ Weldon Shank
Spindle Speed: 300RPM
6′ Long 3 Prong 110 volt Grounded Plug
Overall Dimensions:18″ Tall x15″ Deep x 5″ Wide
Net Weight: 52lbs
Warranty:
1 Year Full Warranty
Shipping Weight and Dimensions:
56 Lbs
Measures 19 x 15 x 8
Steel Dragon Tools® offers a wide variety of professional-grade tools and high-quality replacement parts. Backed by years of manufacturing excellence and coupled with the latest technology, Steel Dragon Tools products provide incredible craftsmanship at an unbeatable value.