AC2-KIT-7PC-LG HSS Annular Cutter Kit
SKU:

SDT-AC2-KIT-7PC-LG

UPC:

819891026255
Dimensions:

4" x 10" x 10"

Weight:

5 lbs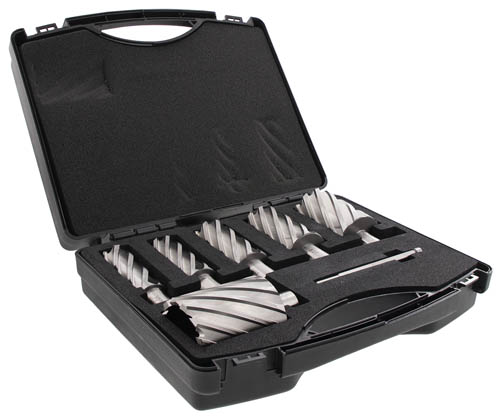 The Steel Dragon Tools® 7-piece high-speed steel annular cutter kit includes six (6) annular bits and one (1) pilot pin. These bits will quickly and safely cut holes in steel. The bits have a 2-inch cutting depth with a 3/4-inch Weldon shank. Also includes carrying case. Bit sizes included: 1 in., 1-1/8 in., 1-1/4 in., 1-1/2 in., 1-3/4 in., 2 in.
Features:
SDT annular cutters will drill large holes up to ten times faster than regular drills bits.
Machine-finish hole with no reaming needed when using lubricant.
Make overlapping holes, slotting holes, and edge cuts.
Bit size is etched on each cutter.
Pilot pin helps locate center of hole location.
Pilot pin helps eject slug after drilling is complete.
During the drilling process, the pilot pin will retract into the cutter allowing lubrication to reduce heat gain in the slug.
Specifications:
Kit includes six (6) high-speed steel annular cutters and one (1) pilot pin.
Bit sizes included: 1 in., 1-1/8 in., 1-1/4 in., 1-1/2 in., 1-3/4 in., 2 in.
Cutting Depth: 2 in.
3/4 in. Weldon Shank
Pilot Pin: 1/4 in. x 4 in. (6.34 mm x 103 mm)
Includes carrying case.
Steel Dragon Tools® offers a wide variety of professional-grade tools and high-quality replacement parts. Backed by years of manufacturing excellence and coupled with the latest technology, Steel Dragon Tools products provide incredible craftsmanship at an unbeatable value.