K1500B Lay Down Drain Cleaning Machine
SKU:

SDT-K1500B

UPC:

817482026332
Dimensions:

27" x 45" x 24"

Weight:

217.13 lbs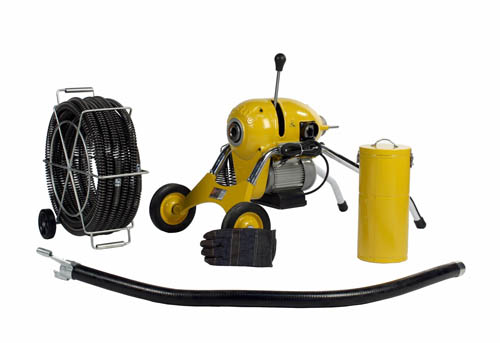 The Steel Dragon Tools® K1500B  is finest 2″ – 8″ Sectional Drain Cleaning Machine on the market and a must for any Serious plumber. This Drain Cleaner is designed to aggressively cut through "Heavy Blockages" with one man operation saving time and labor.
The Heavy Duty Steel Frame and Steel Wheels designed to Last a Lifetime. When faced with Heavy root blockages the 710 RPM Machine Cuts through roots like a hot knife slices through butter. The easy to use Cable Clutch maximizes operator Control allowing Smooth and Easy Operation. 60 ft of 1-1/4″ (30mm) cable, cutters and augers are included to tackle the toughest jobs.
The lay down "B" frame will fit most crawl spaces, loads and unloads from truck easily. – Equipped to run, easy to handle, 16 Ft. sections of 1-1/8 In. cable to clean 2 In. to 8 In. lines to 200 Ft Versatile machine fits  C-11 cable or any 1-1/4″ cable up to 200 feet.
Includes:
3/4 HP 115 Volt 60 Hz 710 RPM Electric Drive Motor (32″-23″x23″)
Fits  C11 1 1/4″ Cable and Cutters
Fits  C10 7/8″ Cable and Cutters with 59325 A-368X 7/8″ Jaw Replacement
Includes 60′ of 1-1/4″ All Purpose Wind Cable (4 pieces of 15′)
Connects to RIDGID®  C11 Sections and 1 -1/4″ Cutters / Augers
SDT 59470 A8 Cable Carrier Holds 65 ft of Cable
SDT 61790 T-4 Heavy Duty Funnel Auger
SDT 61970 T-13 2 1/2″ Sawtooth Cutter
SDT 62840 T-1 Straight Auger
SDT 63105 T-3 Funnel Auger
SDT 63205 T-8 Grease Cutter
SDT 98035 T-50 Sharktooth Cutter
5 ft Rear Rubber Guide Hose
1 Pair of Gloves
Steel Dragon Tools® offers a wide variety of professional-grade tools and high-quality replacement parts. Backed by years of manufacturing excellence and coupled with the latest technology, Steel Dragon Tools products provide incredible craftsmanship at an unbeatable value.
We are not an authorized distributor of RIDGID® and/or Ridge products. RIDGID® Marks are trademarks of RIDGID, Inc and are used for product identification purposes only.