3-Piece 2″ to 4″ Wet Diamond Core Drill Bit Set
SKU:

SDT-CBKW-02-04

UPC:

817482025700
Dimensions:

9" x 20" x 8"

Weight:

14.75 lbs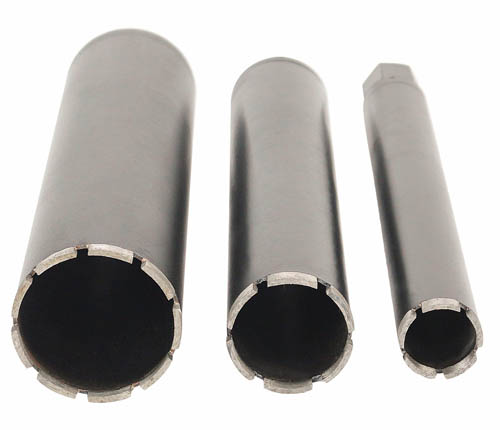 The Steel Dragon Tools three-piece wet diamond core drill bit set is for drilling holes in reinforced concrete, asphalt, block, pavement, and brick. Bit sizes included: 2 in., 3 in., 4 in., 5 in., 6 in.
All core bits are 16-1/4-inched in length with 10 mm laser-welded split segments and 1-1/4 in. x 7 spindle thread. These core bits are for wet drilling only.
Steel Dragon Tools diamond core drill bits have a one (1) year warranty against manufacture defect. Factory conforms to ISO-9001-2000 Quality Control Systems and ISO-14001-2004 Environmental Systems.
Specifications:
Bit Sizes: 2 in., 3 in., 4 in.
Drilling Depth: 16-1/4 in.
Spindle Thread: 1-1/4 in. x 7
2-inch wet core drill bit: 1.719 in. ID x 1.951 in. OD
3-inch wet core drill bit: 2.715 in. ID x 2.960 in. OD
4-inch wet core drill bit: 3.671 in. ID x 3.996 in. OD
10 mm segment height for improved operating life.
Steel Dragon Tools® offers a wide variety of professional-grade tools and high-quality replacement parts. Backed by years of manufacturing excellence and coupled with the latest technology, Steel Dragon Tools products provide incredible craftsmanship at an unbeatable value.