880 LB Electric Wire Hoist
SKU:

SDT-EWH0880

UPC:

817482026080
Dimensions:

6" x 18" x 10"

Weight:

37 lbs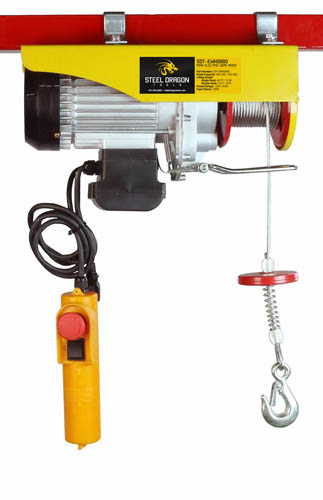 The EWH0880 electric hoist lifts up to 440 lbs. with a single line, or 880 lbs. with a double line. This electric hoist features a durable, braided, anti-twist, high-carbon steel cable. The cable is approximately 40 ft. with a 1/8-inch diameter. The EWH0880 has a lifting rate up to 33 FPM with a single line or 16 FPM with a double line. This hoist features a 5-1/2-foot corded remote allowing the operator to power the load up and down from a safe distance. The EWH0880 electric hoist is the perfect addition for any shop or automotive garage and works well loading heavy equipment or removing small engines.
Specifications:
Single Line Lift: 440 lbs. at 33 ft. per minute up to 40 ft. high.
Double Line Lift: 880 lbs. at 16 ft. per minute up to 20 ft. high.
Cable: Durable, braided, anti-twist, high-carbon steel line
Cable Dimensions: 40 ft. with a 1/8-inch diameter.
Heavy-duty weighted lift hook.
Sheaved pulley lift hook for dual line operation.
Mounting hanging clamp brackets included.
Remote Control: 5-1/2 ft. tethered remote control has an emergency stop switch.
Built-in safety braking mechanism that will continue to hold a load even if power is lost.
Easily lift small engines, transmissions, large shop tools, or building supplies.
Fully automatic hoist requires no hand cranking.
Motor: 110 V, 60 Hz, 750 W
Steel Dragon Tools® offers a wide variety of professional-grade tools and high-quality replacement parts. Backed by years of manufacturing excellence and coupled with the latest technology, Steel Dragon Tools products provide incredible craftsmanship at an unbeatable value.