WRM33
SKU:

SDT-WRM33

UPC:

0819891024039
Dimensions:

9" x 18" x 16"

Weight:

43.5 lbs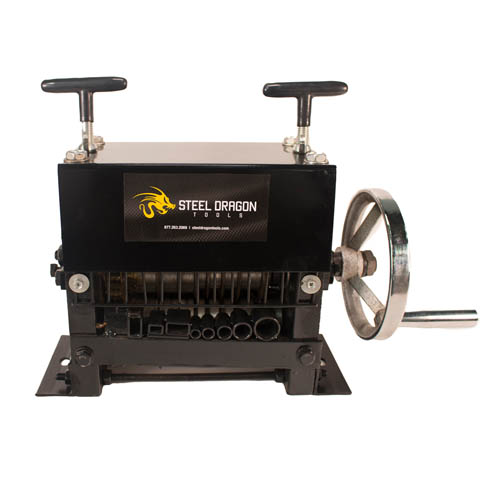 The Steel Dragon Tools® WRM 33 Mini Hand Crank Wire Stripper features seven (7) channels of cutting wheels for stripping scrap copper wire. This heavy-duty machine weighs features an industrial frame with fully-guarded blades to ensure operator safety. The WRM 33 strips 34 AWG to 3/4-inch wire (1.5 mm to 19 mm) and up to 400 MCM industrial wire. This machine will also strip Romex wire.
Stripping scrap wire can result in higher prices when recycling. Depending on scrap metal prices and the size of the wire, this machine could pay for itself in a matter of hours.
Features:
Benchtop manual driven bench top wire stripper.
Mounts easily to any bench or work station.
Seven (7) cutting channels to accommodate a variety of wire sizes.
Industrial, heavy-duty frame with fully guarded blades.
This machine will strip Romex wire.
Specifications:
Wire Capacity: 34 AWG to 3/4-inch wire (1.5 mm to 19 mm), 400 MCM
Weight: 43 lbs.
Will strip Romex
This product is designed and manufactured by Steel Dragon Tools®.
Steel Dragon Tools® products are backed by a one (1) year warranty against manufacturer defect.
Steel Dragon Tools® offers a wide variety of professional-grade tools and high-quality replacement parts that meet or exceed OEM specifications. Backed by years of manufacturing excellence and coupled with the latest technology, Steel Dragon Tools products provide incredible craftsmanship at an unbeatable value.